Dear reader,
Today I have decided to keep a diary here in English once in a while.
I'm not trying to translate my thought but think in English which ,I belive,
goes a long way toward making progress in my English.
Recently I made a lucky find which is a set of DVDs "Ally McBeal - season II".
Have you seen it? I used to enjoy watching it on TV
but I found it much more fun to watch it with subtitles, you know.
The Japanese dubbing artists are not bad at all
but you might get the wrong idea about characters of the story.
It just sounds too different.
And I realized Ally's character sometimes wraps over mine.
She lives in fantasies. So do I..
It doesn't mean I hear things nor see things like she does.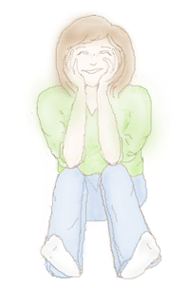 But I have a dream world in me and
spend some time there.
People may think I'm strange but actually
it supports me to live in a real world.
I'm really lucky to have it, I guess. Do you have one?