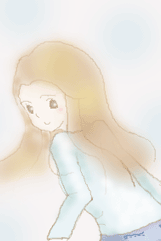 When you walk looking at the ground
as little stones and potholes bother you,
you would never fail.
When you take off as you want something in the distance,
It wouldn't hurt you even if you fall over a stone.
Then you might turn around and look back feelingly
on your long history of life, but
you would have no regrets.
Finally you might stop to look up into the blue sky.
I'm sure you would never be in a rush at the moment.
My point is you'll be OK rain or shine.
Don't you think?
転がる石や穴ぼこを気にして
うつむく時は、失敗がない。

遠くに見える何かが欲しくて
走り出すときは、転んでも痛くない。

やがて後ろを向いて歩いてきた長い道のりを
眺めるかもしれないけど、後悔はないわ。

ついには、歩みを止めて青い空を眺めるときでも、
きっと、その瞬間は焦ってなんかいないはずよ。

言いたいのはね、何があっても大丈夫。
そうでしょ?