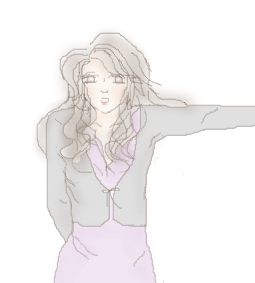 I'm almost there...just one more push and
I'll have some rest.
Though I'm just going to catch my breath,
I can hardly wait.
It's been harder than you think.
If there were no shade of trees in sight right there,
I might have collapsed.
If you were a robot and programmed
just to be a good listener,
I might have got to talking right out.
I'm just talking to myself.
If I could get to the shade of trees somehow,
I wouldn't think twice like this anymore.
あともう少し・・・
もう少しでひと休み。
ほんの一息つくだけだけど、あなたが思う以上に待ち遠しいの。

もしすぐそこに木陰が見えなかったら
へたり込んでいるかもしれない・・・。

もしもあなたがプログラムされた
ただの聞き役ロボットだったら、
せきを切ってしゃべり出すかもしれない・・・。

ほんのひとり言・・・。
あの木陰に行き着いたら、
もうこんな気持ち忘れちゃってるはず・・・。