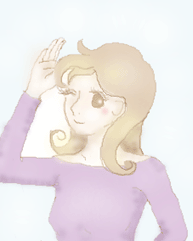 Have you ever felt like you have enormous power welling up?
It's like something invisible controls you.
You don't know what to do with the flood of energy.
But you get excited rather than anxious.
You hear your heart beat and you cannot help running out.
This is the time, my friend.
Time to move on ! Bon voyage
Congratulations !
突然、力が沸いて出てくることってない?
何か見えないものに動かされてるようで、
そのみなぎる力の前に戸惑ってしまうの。
でも不安に思うより、ワクワクするほうが先。
心臓がどきどきして、走り出さずにはいられないの。

友よ、今がその時。!
がんばっておいで!

おめでとう