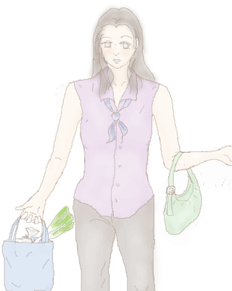 I wonder if I could piece my short time together.
Now that I get these pieces of time for myself,
Every time I have to use up almost an hour
sitting and regaining my breath to snap out of it.
I try to do something in a light mood anyway,
but always the time is up in no time.
I imagine how nice it would be
if I could start from this point next time.
But if I could have a full day off,
I might find myself farting about the entire time.
こまぎれにもらえる自分の時間。
ひとところに拾い集めてみたいの。
せっかくもらえるひと時なのに、
へたりこんで息整えて、
気持ちを切り替えたら、1時間。
心を新たに始めても、
いつの間にか、終わっちゃうの。
次はここからはじめられたら、
どんなにいいかって思うけど、
ぽっかり1日もらえたら、
ずっとボーっとしているかもね。