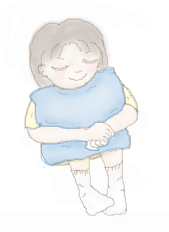 When I was small I used to like narrow spaces very much,
like on folded futons in a cubby or a little space
between a table and a corner.
I remember I was sitting there
holding a cushion on my knees.
Truth is I always wanted to snuggle up to someone,
and feel the warmth of the skin.
That's what makes you feel secure
beeing framed in by those.
小さい頃、狭いところがやたらと好きだった。
布団の積まれた押入れや、
テーブルと壁の隅っこの小さな隙間で、
座布団をひざに抱えていたっけ。
本当はね、いつも誰かに寄り添っていたかったの。
肌のぬくもりを実感したかったの。
だから何かに囲まれていることで、
安心を手に入れたかったの。