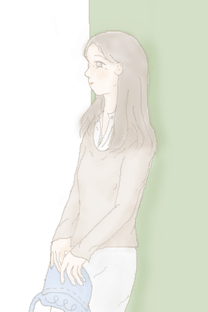 I was watching people passing by while waiting for somebody.
Then I felt how small I was !
There are so many people in this world
and everybody has their own lives wavering
between trivial joy and grief.
Our lives are so small like a line of ants
if you look down on us from the top of a tall building.
People seem to be wandering and
looking for happiness in some way.
They might hope that someday
a big chance would come down from above,
but it isn't true. But by some chance...maybe...
人を待ちながら、行き交う人を見てるとね、
なんて自分はちっぽけなんだろう・・・って思うの。
世の中にはこんなにたくさんの人があふれてて、
みんなそれぞれに、米粒みたいに
ちっちゃなことで一喜一憂してるのね。
ビルの上から見たら、アリの行列みたいに
ちっぽけなわたしたちの生活。
でもどこか幸せ探してさまよってる。
いつか大きな幸せが降ってくるかも・・・
なんてあるわけないのにね。
でも、ひょっとしたら・・・。