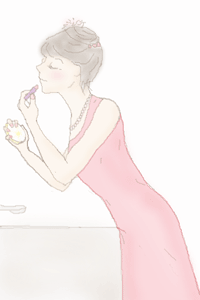 When I was young, I used to think that
men have all the free tickets for their
families, works, and social positions.
They have all those possibilities in hands and
fly out to the vast world every day.
Meanwhile, women are supposed to choose.
Weighing the good with the bad in a balance,
we have to make a decision anyway
at the last minute.
But things are changing in the last half of life.
We hit rewind from now on.
I enjoy my freedom and even
bless myself being a woman at this stage of the game.
It's fair enough, isn't it?
昔はね、男は自由でいいなって思ってた。
家族も仕事も社会的地位も、すべて可能性を残して、
毎日広い世界に飛び出していけるでしょ。
女は選ぶ人生だもの。
プラスもマイナスもひっくるめてタイムリミットギリギリで、
エイヤッで決めなきゃならないの。
でもこれからの後半の人生は巻き返しよ。
自由を満喫しなくちゃね。
今になって、女でよかったって思うの。
文句ないでしょ?