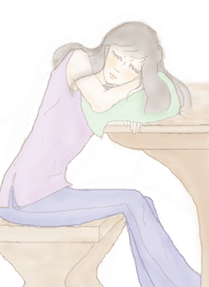 I know I can't but
I wish I could act at will just once in my life.
I would spend my time giving a great wail,
a loud laugh, getting into an argument
and getting back together in a moment like a child.
Things have gotten too complicated in this world.
I just need some sleep to erase
everything from my mind,
You know what? I'm free in my dream.
できっこないことだけど、一度でいいから
わがまま放題、悪い子になってみたいな。
子供みたいに、大声で泣いて笑って喧嘩して、
ケロッと仲直りして過ごしたいな。
なんだか世の中複雑になりすぎたのよ。
何もかも忘れてぐっすりと眠りたいの。
だって、夢の中は自由でしょ。