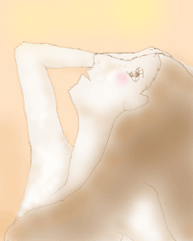 When I open the front door in the morning,
I take one deep breath through my nose
and feel the cold air in my body.
It goes right down to my heart and then
spread over my entire body in waves.
In my nose the feeling like smelling mint
wakes up my senses.
Oh I like winter.
朝、ドアを開けるとね、
鼻でひとつ深呼吸するの。
体の中に冷たい空気を感じるでしょ。
それはするすると胸の方へ降りてきて
やがて体中に波のように消えてゆくの。
鼻の中でミントのようなスーッとする感覚が
私の五感を刺激するの。
嗚呼、冬が好き。