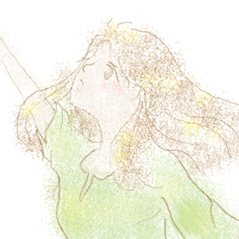 Yet I'm not mentally prepared for this,
I find myself gathering speed
disregard of my wishes.
I should walk, I guess,
but I just can't stop running.
I get out of breath running up
this long gentle slope.
When I reach the top of this...
Do I get to see the panoramic view?
See something brighten the prospect?
心の準備も出来ないままに、
勝手に足が加速する。
歩いていけばいいのだけれど、
走る足を止められない。
どこまでも続く、なだらかな坂は
走るととたんに息が苦しい。
この丘を登ったら、何か世界が
開けるのだろうか・・・。